Hello! My name is Megan Rue, your local realtor here in Cambridge, MD. As you may know, I am the newest and youngest member in the EXIT On The Bay Realty office. Not only as a REALTOR but as the assistant to our Broker/Owner, Daniel W. Shoemaker III, I have been given an opportunity to do what I do best every day. Dan has provided me with the best knowledge, training, and resources a new agent can get to being a careful, competent and professional in all the Real Estate endeavors I work on.
As soon as I joined the team, I was fortunate enough to have a chance to receive training under one of the best Real Estate Internet Marketing Trainer's around – Key Yessaad. Key's program, the #8WeekSuccess Challenge (an Internet Markets & SEO class) has exposed me to all the latest & greatest strategies to market and sell your homes!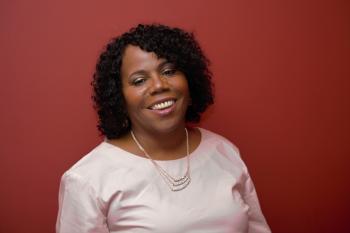 I've met so many wonderful and successful fellow EXIT agents in my short but intriguing journey; and one of the most notable people would be my guide and #SuccessPartner, Tawanda Vanlandingham.
Tawanda Vanlandingham is a REALTOR Associate Broker of EXIT Landmark in Clinton Maryland who specializes in the listing and selling of real property in the Accokeek, Brandywine, Clinton and Ft. Washington areas. Tawanda is extremely passionate; not only in educating her buyers and sellers in all things real estate, but in sharing good news and bringing people together as well. She is enthusiastic and excited in her ability to help buyers and sellers make a decision that will impact their lives.
Ms. Vanlandingham got her start in the real estate industry by naturally giving advice to her family and friends on their first home purchases. That's when she realized – she needs to do this for a living! After passing her licensing exams, she put her best effort forward and became the great and prosperous REALTOR she is today.
Tawanda really enjoys what she does and it shows. Some of the most enjoyable things to her are providing options and keeping abreast of the changes and information to provide to both clients and agents. Also networking with other agents and being encouraged by their success. To quote Tawanda, "I really believe, if they can do it, SO CAN I" – I love that statement, SO encouraging! This is something I like to think about when the job gets tough.
Her favorite part of the job is selecting homes and writing contracts. Ms. Vanlandingham explained that once she obtains all of the details from her clients by listening intently to their needs and wishes, she is usually able to pin point the exact house they were looking for when selecting their forever home. Tawanda also has great administrative skills, so writing contracts and other office work is a breeze!
In her spare time, Tawanda likes to drive and travel to new areas for new places to eat. She also enjoys sewing and quilt making, including a beautiful African print skirt. She will also always find the time to read good book or to go shoe shopping!!
When you're ready to come start your search for Maryland Southern Prince Georges County Homes for Sale, take it from me to know that Ms. Tawanda Vanlandingham of EXIT Landmark Realty would be honored to discuss your real estate needs. Give her a call or text her today! -- 240.838.6847
Dorchester County Homes for Sale – Megan E. Rue – Local Agent & REALTOR with EXIT On The Bay Realty. My specialties include the Cambridge, Hudson, East New Market, Federalsburg, and Southern Dorchester County areas. I'm a self-motivated entrepreneur who enjoys working with first time home buyers and sellers. Call or Text Me Today! – (443) 477-0859.